A hotel in Bruneck with history
What makes our hotel in Bruneck so unique? Hmm, let's see …
Perhaps it's the location right in the centre of the main town in Val Pusteria/Pustertal.
The historic ambience within the medieval town walls.
The spacious rooms where you can unwind and feel good.
The impressive 15th century town tower.
Its proximity to the most wonderful shopping street in South Tyrol.
The hustle and bustle in the lively "Graben" lane.
The tranquillity of the surrounding nature.
The warmth of your hosts.
…
Well, what really makes our hotel in Bruneck so exceptional is difficult to put into words. And there are also plenty of activities on offer in Bruneck: hiking, skiing, biking, cross-country skiing … Come and take a look. Where is Bruneck? Right here!
from
€80.00
per person
incl. Bed and breakfast
from
€60.00
per person
incl. Bed and breakfast
from
€100.00
per person
incl. Bed and breakfast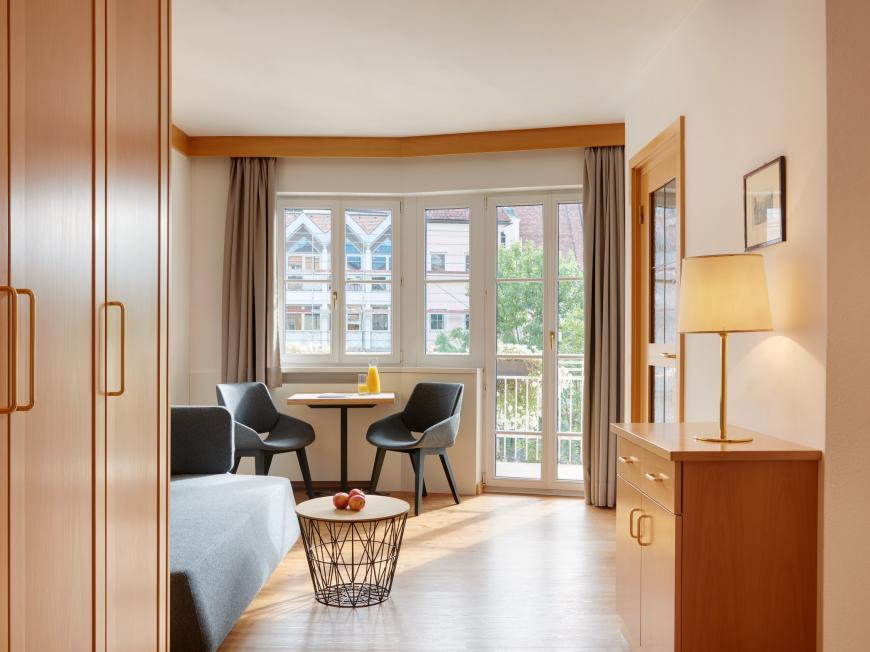 from
€80.00
per person
incl. Bed and breakfast
A look back into the past
In 1770, an important papal delegation from Rome travelled through Val Pusteria/Pustertal on their way to Vienna to pay homage to Empress Maria Theresa with the "Golden Rose", one of the highest papal honours. This delegation stayed at the traditional "Zum Christlwirt" inn, which was renamed "Zur Goldenen Rose" in honour of this important visit.
The Prince-Bishop of Brixen
Back in 1478, the Prince-Bishop of Brixen, as lord of Bruneck, had the town walls reinforced and the "Sinwell" built. Today, this round tower is the symbol of traditional Hotel Goldene Rose, and the large gate of the town tower is synonymous with hospitality, elegance, and an exclusive ambience.
For six generations – or since 1872 to be more precise – we have been running the former "Hotel zur Goldenen Rose" with a great deal of love and passion. As true "Bruneckers", we know the hotel's historic importance and have completely renovated it to meet the needs of modern guests while ensuring its historic value is protected.
Many famous faces from the world of showbiz, politics, and finance have stayed at our hotel in Bruneck to enjoy hiking, exploring, and sightseeing – from Aldo Moro, Matteo Thun, and Angelo Roncalli to Sabrina Ferilli, Roberto Blanco, and Michael Mendl. And when will you be paying us a visit?
Authentic. Real. Genuine. We, the Hinterhuber family, are your hosts and have been spoiling our guests for some six generations – and still do so with the same passion as all those years ago. The joy of spending time together, unobtrusive South Tyrolean hospitality, the sensation of arriving and feeling right at home. That's exactly what we want to give you when you stay in Bruneck in South Tyrol. And have done since 1872.
High Gothic carved wooden closets, Baroque bureaus, and Late Gothic four-poster beds. A design somewhere between purism and cosiness. Pictures by contemporary South Tyrolean artists. Rooms steeped in history and modern amenities. Hotel Goldene Rose, a feel-good ambience with a very special charm.